I thought junior year was hard. It was full of lots and lots of school work, but with the promising and illustrious 'senior year' ahead of me, I knew I could pull through. I knew that if I didn't do so hot on one test, it wasn't the end of the world. Obviously, I worked really hard and tried my best, and I was disappointed when my best didn't cut it, but I was always reassured.
But this year, I was introduced to real life.
I think I had always been in this bubble of 'work hard and get what you want' and 'the best things happen to people who try the hardest', because it's kind of what I had been surrounded by. Work hard and see the things you want. You want good friendships? Work hard to make sure you keep in touch. You want to make money? Get a job (...or start your own business). You want good grades? Study hard.
They're all logical, smart things to think about. Easy solutions to sometimes difficult problems. Very black and white. But this year, I was introduced to real life, a more grey area. You see, I always thought that if I gave something my all, I could get it. There have been disappointments and sad times in my life, but I always thought they were fixable. This year, I've been stressed with several things and thought if I had only worked a little bit harder, I could achieve my goals. However, when I try my hardest and am still stressed, I only have more anxiety put on me. It angered me that I was working hard and trying my best, but there were still things in my life that weren't working out the best for me. And then I realized: this is real life stuff.
For me, anxiety comes from the uncontrollable aspects of life. The things that you put a lot of work into, yet you can't control the results. This drives me crazy to no end, because I'm one of those annoying, meticulous control freaks. Responsibilities exist, and they're real ones. You can't screw up a real life responsibility, because real life consequences follow, sometimes consequences that are unpreventable.
And I'm not exactly sure how to go about these things that aren't going my way... other than to accept them. We have to accept who we are as a person (yes, I have to accept that I'm a control freak) and be willing to try our best and our hardest at whatever we do, with great goals in sight. Set goals, and don't accept failures as the ideal situation, but learn from them. I can't control all the failures in my life, sad and nerve-wrecking as it might be. It's hard to accept that my life in Area X isn't where I want it to be, but I have to.
Because it's life.
I know I'm only 17 years old and that I've barely experienced any of the world or even grown-up things. I know that there will be plenty more failures, much, much worse failures, heartbreaks, and tragedies. I know that. And I am a little scared for it, but it's okay, because I'm just trying to enjoy things right now.
Life is great, it really is. You know how excited I get about my life and the things that will come forward in it. But there's a reason that someone started saying "that's life, man" after someone complains about his/her problems. Life is full of surprises and changes and failures and happiness and congratulations and sadness. We say "that's life" because there's no way to describe what each individual in this massive world is going through, other than "life". Life's tough sometimes, and I've come to meet that, especially this year. But life's also great, and you, my friends, are going places. It can be tough right now and you have no way to describe your situation, but if you keep at it and have a little faith, something will work out. Maybe not everything you ever wanted, but enough to keep you loving life as much as I do.
And I don't mean to be cheesy or 'basic', but one of my favorite books of all time is Perks of Being a Wallflower, and I found these.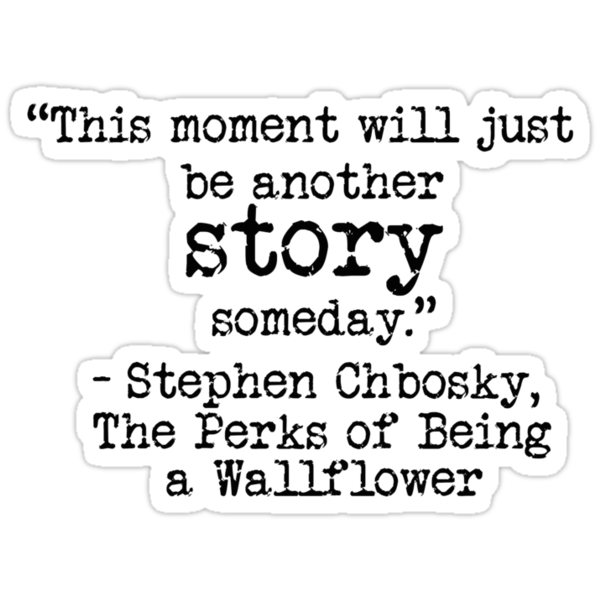 And one of my all time favorites, Ferris Bueller's Day Off.
So try to take this to heart. Keep working hard, because a hard work ethic can get you pretty far. It's one of my strong values in life. But if you fail or can't fix the unfixable, accept it. Maybe you can't skip a day of school like Ferris Bueller, but remember that life does move pretty fast. Life's tough, but life's pretty freaking great, too.
Philippians 4:6-
Do not be anxious about anything, but in everything, by prayer and petition, with thanksgiving, present your requests to God.